When pharmacists and providers work together, patients and health care are better off.
"Collaborative partnerships between pharmacists and physicians empower team-based care, which has been proven to result in better quality care and health outcomes for patients," said Anne Burns, R.Ph., vice president, professional affairs at the American Pharmacists Association (APhA).
Even though evidence demonstrates that pharmacists' involvement in patient care helps alleviate demands on the health care system and improves patient outcomes, federal and state laws still restrict pharmacists' capabilities.
Collaborative practice agreements (CPAs) help solve that problem. A collaborative practice agreement is a legal agreement between a pharmacist and a prescriber. It defines certain patient care functions—like prescribing or modifying drug therapy—delegated to the pharmacist and the circumstances when the pharmacist can provide them.
Pharmacists and providers can—and should— collaborate even without a collaborative practice agreement, but the agreement delegates patient care functions to pharmacists beyond the pharmacist's typical scope of practice.
And those additional functions result in better quality care and patient outcomes. Pharmacists' unique medication expertise and accessibility complements the services of other healthcare professionals. This collaboration improves the efficiency and reduces the fragmentation of patient care.
"When used to their full potential, collaborative practice agreements have the ability to increase access to care, expand available services to patients and increase the efficiency and coordination of care," said Jeff Durthaler, pharmacist consultant in the Division for Heart Disease and Stroke Prevention with the U.S. Centers for Disease Control and Prevention (CDC).
Collaborative practice agreements are especially beneficial to patients when it comes to chronic disease management.
Often, physicians are resource- and time-strained and can't fully provide the care each chronic patient needs. Pharmacists can fill that gap with accessible front-line care and medication management. "CPAs can increase patient access to health care by empowering pharmacists to practice as an extension of other healthcare professionals to help patients manage or prevent chronic diseases," Durthaler said.
How collaborative practice agreements work
Collaborative practice agreements give pharmacists greater autonomy.
The legal agreement enables the pharmacist, under specified conditions, to directly adjust patients' medication regimens to optimize outcomes without constantly consulting the physician for approval.
For example, if pharmacists want to modify patients' drug therapy, they typically have to get permission from the physician.
Phone calls, faxes and emails about prescription drug therapy normally occur at least nine times a day in a pharmacy. Under a collaborative practice agreement, the physician may grant the pharmacist authority to make those modifications without seeking permission each time.
That cuts out the time-consuming back-and-forth between pharmacists and physicians. And it increases the efficiency of care.
"When the pharmacist and physician work together for a long time and the physician trusts the pharmacist's judgment, those phone calls or faxes back and forth can become an administrative burden that no longer serve a supervisory role," said Krystalyn Weaver, Pharm.D., vice president of policy and operations at the National Alliance of State Pharmacy Associations (NASPA). "The agreement can say the pharmacist can adjust insulin doses or add on therapy they need. So those administrative burdens of communication back and forth can be reduced."
Types of collaborative practice agreements
There's no fill-in-the-blank standard for a collaborative practice agreement. But the agreement may specify the patients, the disease states and the medications included in the collaborative practice agreement.
Some commonly delegated functions include:
Authorizing refills
Adjusting doses
Initiating new therapy
Ordering laboratory tests
Depending on what each state allows, physicians and pharmacists can develop collaborative practice agreements tailored to meet the community's needs. "Each physician-pharmacist collaboration is different," Burns said. "Identifying the most effective functions will be driven by the needs of the physician practice as well as the individual needs of a patient."
Green Line Apothecary, an independent community pharmacy in Wakefield, R.I., entered into a collaborative practice agreement to help the local community suffering from crises levels of Lyme disease. In partnership with a physician at the local hospital through the University of Rhode Island, the collaborative practice agreement enables Green Line Apothecary to provide emergency prophylactic to patients with Lyme disease.
Under the collaborative practice agreement, owner and pharmacist Christina Procaccianti, Pharm.D., can dispense two 100mg capsules of doxycycline as a preventive measure for patients who meet specific criteria.
"With timing being such an issue here, to be able to walk into a pharmacy and get that kind of level of service can be life-changing," she said.
The Lyme disease collaborative practice agreement demonstrates how specific the terms of a collaborative practice agreement can get, depending on the particular partnership's needs. Procaccianti's collaborative practice agreement isn't a catchall approval for administering doxycycline when she thinks it's appropriate. Rather, she must evaluate patients according to detailed criteria outlined in the agreement.
For example, the patient must bring in the tick or a photograph of the tick for Procaccianti to identify as a deer tick. And patients must have received the tick bite within the last 72 hours, among several other criteria.
Collaborative practice agreements are also subject to the requirements and restrictions of each state, including:
Which types of practitioners can participate in these agreements
What the agreements must specifically contain
The length of time agreements remain valid
And, functions that pharmacists can legally perform in one state may not be legal in another.
---
Common Services Under Collaborative Practice Agreements
Pharmacists can provide these common services authorized under collaborative practice agreements (CPAs), depending on the state's laws and regulations.
Authorization of refills
The prescriber authorizes the pharmacist to extend refills based on the pharmacist's assessment of the patient. Without a CPA, in most states, pharmacists would need to contact the prescriber to obtain authorization for a refill.
Chronic disease management
The prescriber authorizes the pharmacist to initiate, modify or discontinue medications.
Laboratory tests
The CPA may authorize the pharmacist to order and interpret laboratory tests essential to effectively monitor medications or the status of chronic conditions. Note that some states allow pharmacists to order and interpret laboratory tests without a CPA.
Therapeutic interchange
The prescriber authorizes the pharmacist to substitute another drug in the same drug class for the medication originally prescribed.
Source: Centers for Disease Control and Prevention
---
Find the business benefits
Numerous factors affect the profitability of direct patient care services for a pharmacy. The most important is whether the service is reimbursable or not.
Weaver said the primary business benefit of a collaborative practice agreement for pharmacies already delivering direct patient care services is increased efficiency. More efficiency means more business. "You can deliver services quicker, easier, and see more patients if you're already delivering that type of care," she said. That's good for revenue and patient retention.
In states that allow it, collaborative practice agreements can also diversify your revenue streams by adding services in acute and preventative care you otherwise couldn't offer.
For example, a collaborative practice agreement could enable you to prescribe antiviral products to patients who test positive on a rapid diagnostic flu test. "That would be a whole new service that pharmacists could implement in their pharmacy," Weaver said. "Sometimes patients will pay cash for the convenience, so some of the reimbursement problems with insurance can be sidestepped in that way."
And, your pharmacy can acquire additional patients through a collaborative practice agreement.
"Developing collaborative relationships with physicians and other providers in the community can assist in potential referrals to the pharmacy," Burns said.
After all, the partnering physician will refer patients with the appropriate needs to your pharmacy. That boost in traffic can increase sales for that specific treatment but it may also give you an opportunity to turn those patients into long-term, loyal customers.
Looking out for patients
But Procaccianti of Green Line Apothecary cautioned pharmacy owners against jumping into a collaborative practice agreement just to cash in.
As long as pharmacists aren't considered providers and don't get paid for their time, not all collaborative practice agreements will benefit a pharmacy financially. Because Procaccianti can't charge patients for the 10 or more minutes she spends evaluating them for Lyme disease, for example, she doesn't get paid if they don't pass the criteria and buy a prescription.
"You need to go into it cautiously and because you believe in it," she said. "Not solely because you think it's a good business decision."
Procaccianti also has collaborative practice agreements for immunizations and naloxone. She said those collaborative practice agreements bring in more consistent profit due to fairer reimbursement rates.
Collaborative practice agreements also help pharmacy businesses adapt to evolving payer preferences because they position pharmacists as providers.
Trends identified in the 2017 NCPA Digest, an annual publication from the National Community Pharmacists Association (NCPA) that profiles the $79.8 billion independent community pharmacy market, point to quality of care and patient outcomes as growing drivers for reimbursements, both of which collaborative practice agreements improve.
"Payment models for healthcare services are quickly changing to value-based, risk-sharing payment models where reimbursement is based on outcomes and performance measures," Durthaler said. "For sustainability, pharmacy practice can evolve to being patient-centered and outcomes-focused."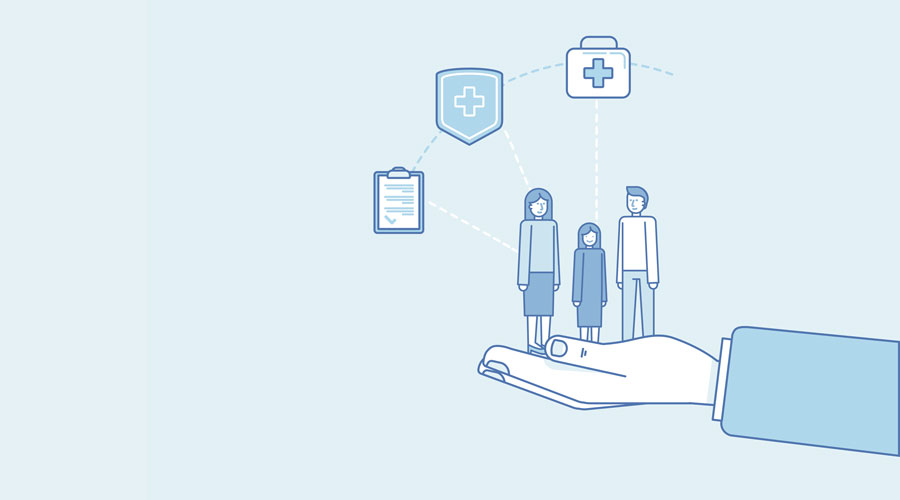 Developing an agreement
The first step to develop a collaborative practice agreement is to find a provider to partner with. Procaccianti recommended choosing a partner based on the patients or conditions you care about. "You have to really believe in what you're doing," she said. "There's so much value in that."
Then you build a relationship with the provider, which can organically bloom into a collaborative practice agreement. "The first interaction between a pharmacist and physician isn't sitting down and writing a CPA," Weaver said. "Trust develops over time."
That means you don't jump in with both feet.
Instead, you build trust one small step at a time. "Trust usually begins with several routine interactions between prescribers and pharmacists," Durthaler said. "The best way to create an effective CPA is to engage in offering a basic service with the intent to demonstrate success, build trust, and work collaboratively before a CPA is started."
Start by offering a simple service, like refill authorizations, to show the prescriber your chops. Once they trust you with that service, add in another service.
In its toolkit, "Advancing Team-Based Care Through Collaborative Practice Agreements," the CDC gives an example of what this relationship building could look like in practice.
A pharmacist dispenses a prescriber's prescription and then makes a recommendation
The prescriber accepts the pharmacist's recommendation for medication therapy
The prescriber delegates disease management responsibilities and grants authority for medication therapy management through a formal collaborative practice agreement
Convincing the provider
Before you can establish trust with a basic service though, you'll need to meet the provider to convince him or her of the new collaboration. "The pharmacist should be prepared to make the case for the value of formalizing the relationship," Durthaler said.
For the best chance of success, focus on unmet patient needs in the prescriber's practice and in the community. Choose ones you're most suited to meet. "Discuss areas of potential collaboration as well as needs of the physician practice that the pharmacist may be able to assist in addressing," Burns said.
Come prepared to answer any of the provider's questions. "Address the common concerns of prescribers, such as the pharmacist's level of training and experience in delivering patient care services, communication between the pharmacist and prescriber, and potential costs incurred as a result of the collaboration," Durthaler said.
Finally, the potential for greater liability could make providers hesitant to enter into a legal agreement. "The collaborating prescriber would be increasing his or her own liability by entering into a CPA," Durthaler said. "Let the prescriber ask questions, voice concerns and help to shape the scope of the CPA."
---
The Many Names of a CPA
Collaborative practice agreements (CPAs) go by many different names. Here are some of them.
Collaborative care agreement
Collaborative pharmacy practice agreement
Consult agreement
Delegation of authority by physician
Physician-pharmacist agreement
Standing order or protocol
---
Drafting the collaborative practice agreement
Once the partners agree to formalize their collaboration, it's time to create the legal agreement. "It's a pretty onerous undertaking because pharmacists and physicians aren't trained to write legal contracts," Weaver said. "But there are some resources that can help."
Among the sources Weaver suggests is the CDC toolkit, which provides templates and language to help pharmacies draft a collaborative practice agreement. It also lists the possible steps involved, depending on the state.
Steps to create a collaborative practice agreement include:
Registering the collaborative practice agreement with the board of pharmacy or some other governing body
Developing data sharing and business associate agreements
Obtaining a pharmacist National Provider Identifier number
Identifying a business model that sustains the scope of services
Even though you develop the agreement with the provider, define the details of each collaborative practice agreement separately. Draft each agreement based on your particular relationship with the provider and use the specific needs of your patients to guide you.
"Each physician-pharmacist collaboration is different and identifying the most effective functions will be driven by the needs of the physician practice as well as the individual needs of a patient," Burns said.
Collaborative practice agreements should have some fluidity. If you both discover over time that certain functions or terms aren't adequately meeting patients' needs, or if you need to adapt them to changes, you'll want to have the ability to modify the collaborative practice agreement. Because many collaborative relationships evolve as trust grows, the collaborative practice agreement needs to develop and evolve along with it.
State laws and rules will govern the terms of every collaborative practice agreement to some extent, whether by the national board of pharmacy or another governing body. According to the CDC, state laws may limit the types of practices, health conditions or settings in which the pharmacist can perform delegated services.
Outlook of pharmacy
Collaborative practice agreements are a relatively new opportunity in some states, so their growth and effect on independent community pharmacies may evolve. But Procaccianti said she thinks this is only the beginning.
"CPAs are here to stay and regardless of what other people think, pharmacists are providers," she said. "We should be expanding our capabilities as pharmacists."
Collaborative practice agreements tap into the strengths of independent community pharmacies, like their accessibility and close relationships with patients, to mitigate gaps in care. That makes independent community pharmacies and collaborative practice agreements a perfect fit now—and in the future.
"Nobody is a better resource than your independent pharmacist," Procaccianti said. "We're providing a superior level of customer service."
And in Procaccianti's experience, healthcare professionals are on board. They're seeing the benefits of collaborative practice agreements both to help reduce their burdens and to improve health care in general. "The local emergency departments, in particular, have praised our project," she said. "They and the local doctors have been very supportive. Something that can be handled in the pharmacy in 10 minutes saves time and money for everybody."
Overcoming obstacles
The major obstacle holding independent community pharmacies back is their official status. If the law doesn't recognize them as providers, they can't be paid for all the services they can perform.
"My time is not valued as a pharmacist like a physician's is," Procaccianti said. "It's frustrating as a retail pharmacist because I'm providing this incredible service for patients. Now's the time for us to mobilize to gain that provider status."
While collaborative practice agreements are limited by pharmacists' status, they also bring pharmacists closer to provider status by demonstrating the effectiveness of team-based care.
"In coordination with other healthcare professionals, pharmacists are playing a greater role in the delivery of healthcare services," Durthaler said. "The pharmacist's role on a patient's care team continues to expand and the use of CPAs can accelerate this expansion."
So, perhaps collaborative practice agreements can do more than change your business. They can radically change the industry for good.
For a full overview of collaborative practice agreements, including a toolkit, infographic, overview webinar and links to additional resources, visit the NASPA website.
---
Knowing the Variables
Each state's restrictions and requirements for collaborative practice agreements (CPAs) vary widely. These CPA variables change by state.
Authorized functions
✔ Conduct physical assessment
✔ Discontinue medication therapy
✔ Initiate medication therapy
✔ Interpret laboratory studies
✔ Modify medication therapy
✔ Order laboratory studies
✔ Perform laboratory tests
Participants
✔ Number of patients
✔ Number of pharmacists
✔ Number of prescribers
✔ Pharmacist-to-prescriber ratio
✔ Relationship between patient and prescriber
✔ Types of prescribers
Requirements and restrictions
✔ Agreements approved or reported, and to which entity
✔ Communications
✔ Continuing education
✔ Disease state of patient
✔ Documentation
✔ Involvement of patient
✔ Length of time that agreement is valid
✔ Liability insurance
✔ Medications to be managed
✔ Practice setting
✔ Qualifications of pharmacist
✔ Review by physician
Source: Centers for Disease Control and Prevention
---
A Member-Owned Company Serving Independent Pharmacies
PBA Health is dedicated to helping independent pharmacies reach their full potential on the buy-side of their business. Founded and run by pharmacists, PBA Health serves independent pharmacies with group purchasing services, wholesaler contract negotiations, proprietary purchasing tools, and more.
An HDA member, PBA Health operates its own NABP-accredited warehouse with more than 6,000 SKUs, including brands, generics, narcotics CII-CV, cold-storage products, and over-the-counter (OTC) products — offering the lowest prices in the secondary market.
---