Inside: Effective branding connects to your patients on an emotional level and builds a loyal following that lasts. 
Branding is more than just a logo. And it's more than just the products you offer. Branding can feel intangible and hard to capture, but creating a recognizable brand drives value for your business.
When you expand from a single pharmacy to multiple locations, branding becomes even more important. A distinct brand helps patients recognize your stores and services no matter what side of town they are on, and it helps to create a consistent experience across each location.
Branding encompasses everything from how you market to patients, what your store and marketing materials look like, the pharmacy's culture and values, and more.
---
A Brand That Cultivates Loyal Connections With Patients 
When patients are searching for the right pharmacy, it can start to feel a little like dating. One store might make a dazzling first impression with flashy services, then fall through when it comes to customer service.
You don't want your patients to date you — you want them to make a long-term commitment, like a marriage. To accomplish that, your branding has to foster an emotional connection. That's what William McEwen writes about in his book Married to the Brand, which relies on research on consumer psychology from Gallup to paint a picture of effective branding that tugs on patients' heartstrings.
Keys to a long-lasting "brand marriage"
Products, pricing, advertising, packaging, and stellar customer service all work together to help build a healthy, trusting relationship with patients.
But the secret to a long-lasting brand marriage isn't just trust, according to McEwen. In order to get past the "dating" stage and into a long-term relationship with your patients, you have to build brand passion.
Retention goes beyond having a flashy commercial or unique imagery. You have to continually prove to your patients that you are invested in their experience.
Every time they come in contact with the pharmacy—whether that be an in-person visit or seeing an ad in the paper—they should come away with a positive impression. This will create an emotional investment and keep patients coming back.
RELATED: Are You Giving Patients a Great Pharmacy Experience?
Engage patients (not competition)
To measure the success of their brand, pharmacies might look outward to their competition. They want to see if their products, their prices, and their reputation measure up to the pharmacy down the block.
But that isn't the most useful metric for success, says McEwen. Instead of looking at competition, pharmacies should measure customer engagement. If you are in a brand marriage, your patients become a partner in the brand, rather than just the people who fill prescriptions with you.
Customer engagement can be difficult to measure. McEwen suggests paying special attention to same-store sales growth to determine which of your locations is succeeding in bringing in new patients and keeping the old ones returning.
Deal with problems effectively
If you think of branding as merely the look and messaging associated with your pharmacy, you could end up losing even your most loyal patients. Customer service is a crucial part of branding, especially when patients experience a problem.
When loyal customers have a problem at the pharmacy and it's not handled to their satisfaction, your brand marriage can turn into a brand divorce. Loyalty decreases by as much as two-thirds after a problem, according to McEwen.
However, problems can also present pharmacies with an opportunity to improve its brand image with a patient—if they handle it well. When patients receive excellent customer service after presenting a problem, it can help build more brand passion. But if the service is anything less than excellence, feelings of dissatisfaction fester and change patients' impression of the brand for the worse.
Use employees as ambassadors
If your employees haven't bought into your pharmacy's brand, chances are, your patients won't either.
Pharmacy employees are one of the most powerful brand messengers you have. They have the ability to make or break a patient's experience at the pharmacy, so it's important you don't overlook them.
"As our research has shown, a company's brand representatives—who may be tellers at a bank, checkout clerks in a supermarket, or sales reps calling on customers—are in many cases the most important determinants of the strength and health of a company's customer relationships," McEwen writes for Gallup.
In order to use your employees as brand ambassadors, you can begin by hiring people who already believe in your pharmacy's values. Once they are on board, you have to continuously communicate how employees can best fulfill those values.
When employees have a clear understanding of what their mission and purpose is, they can provide better service to patients and build up the pharmacy's community reputation.
Build brand intimacy
Ultimately, to build relationships that will last, you have to tap into patients' emotions. What emotions you need to tap into varies for every business, but as a pharmacy that deals with patients' healthcare needs, aiming to make patients feel safe and taken care of is a good start.
Businesses who foster these emotional connections are said to have good "brand intimacy." A survey by branding agency MBLM found that Amazon topped the charts in terms of brand intimacy. People felt close to Amazon because it provides a service they can't imagine living without, and they feel like they are rewarded for their loyalty with perks like free delivery and streaming music and movies.
Patients feel close to a brand when they get the impression that the relationship is reciprocal. If your pharmacy cares about them and invests in their health, they will keep coming back and give the pharmacy business in return.
---
3 Keys to Creating a Unified Brand
Keep these factors in mind when developing a recognizable brand for your multiple pharmacy locations.
1. Develop a consistent message
You've probably already developed a baseline for your messaging without even realizing it. When you first wrote your business plan, you came up with a mission and vision statement that defined your pharmacy goals. Any brand messaging you create should connect back to those original documents.
Brand messaging is what you'll use to convince patients to visit the pharmacy for the first time and keep them coming back as loyal patients. Since you'll essentially be making a pitch to patients, it can be useful to come up with a list of the biggest things that differentiate you from your competitors. Having those differentiators on hand will help you make a clear argument in your messaging.
2. Have a distinct voice
If your brand messaging is what you say, your brand voice is how you say it.
No matter how you communicate with your patients, you need to have a consistent voice. This doesn't mean that everyone who works at the pharmacy has to mimic each others' tone. It does mean that when communicating with patients — whether that's through a marketing email, on the phone, over social media, or in person — you maintain the same kind of personality and tone.
While you want your brand voice to project professionalism, that doesn't mean that it has to be staid and stilted. To determine what your brand voice should be, think about your values and how you want your patients to see you.
As a sportswear brand, Nike has a brand voice that inspires people to take action. As a healthcare destination, you want to let people know that you can take care of them, so you might want to use language that revolves around trustworthiness and healthy living.
3. Unify your look
Tie your messaging and voice together with a distinct, unifying look. You want your brand to be immediately recognizable. When you hear "Coca-Cola," you probably immediately think of white cursive on a bright red background, and the golden arches spring to the front of your mind after hearing "McDonald's."
Creating a unique look is important to tie your multiple locations together. Decide on typography, color palette, and graphics, including a logo. These should be uniform on your outdoor signage, indoor decorations, website, social media, custom packaging, and any marketing materials you send out.
It doesn't have to stop at "look" either. You can incorporate other senses into your branding. You could diffuse the same calming scent in each location, or develop a memorable soundtrack that plays while patients shop.
---
Anatomy of a Pharmacy Brand
Your independent pharmacy's name and logo matter. But they make up only a small part of branding. Incorporate all these elements to create a complete brand for your business.
Positioning
Your pharmacy's unique position in the marketplace forms the foundation of your brand. What do you offer that nobody else does?
When determining your positioning, look to your patients. What do you deliver to your patients every day? Why do they continue to come back? "Become that go-to health care destination," said Tom Boyer, director of national accounts at Hamacher Resource Group. "Be the knowledge bank where people go. Independent pharmacies shine over their national chain competition when they offer those types of services."
Activities
Don't overlook how activities, like events and outreach, build your brand. Take part in the community by hosting, attending and sponsoring events that support your brand. For example, a pharmacy that sets its brand as health and wellness should host workshops or educational sessions to help patients improve health and wellness.
Retail products
Your front-end product assortment reflects your brand. For example, a pharmacy branding itself as the community homeopathic pharmacy with natural remedies for every ailment should stock a large selection of natural products. "Make sure you focus on over-the-counter (OTC) or wellness-related products that complement the prescriptions you fill," Boyer said.
Communications
Your communications need a consistent message with a unique voice that reflects your brand's core values. And, messaging means more than marketing and social media. The signs in the pharmacy, the words on your prescription bags and your advertisements all need to reflect your pharmacy branding.
Appearance
Your brick-and-mortar building should also reflect your brand. If it doesn't, you need to update. "If your store looks and feels the same as it did 25 years ago, then you aren't preserving your brand," Boyer said.
Identity
Anything visual that represents your pharmacy makes up your identity. Make your brand identity consistent. Ensure it leaves patients with a good impression. Your identity can include your logo, marketing materials, letterhead, products, signage, uniforms and more.
Logo
A logo is an icon or mark that identifies your pharmacy brand in its simplest form. It symbolizes the business as a whole.
Strategy
Support your pharmacy brand with a strategy. Because brands evolve over time, brands that recognize market changes and patient trends will stay relevant.
---
Follow the Series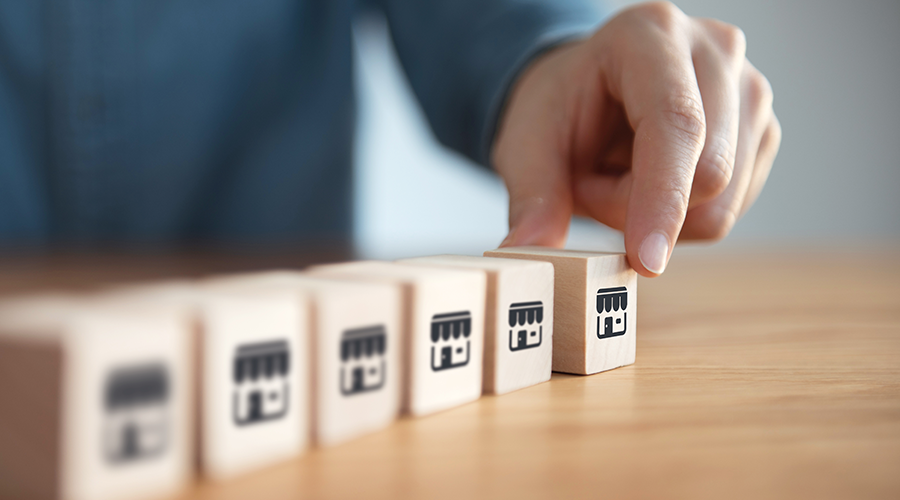 This blog series is all about the unique aspects of managing more than one pharmacy location. Follow along as we discuss how to improve efficiency, productivity, and profit across multiple pharmacies.
---
An Independently Owned Organization Serving Independent Pharmacies 
PBA Health is dedicated to helping independent pharmacies reach their full potential on the buy side of their business. The company is a member-owned organization that serves independent pharmacies with group purchasing services, expert contract negotiations, proprietary purchasing tools, distribution services, and more.
PBA Health, an HDA member, operates its own VAWD-certified warehouse with more than 6,000 SKUs, including brands, generics, narcotics CII-CV, cold-storage products, and over-the-counter (OTC) products.
---
Want more pharmacy business tips and advice? Sign up for our e-newsletter.