Whether your pharmacy is just getting up and running or you have decades of experience, a SWOT analysis will help you drill down and figure out where your pharmacy is succeeding and where it's struggling — and identify potential future successes and struggles.
The acronym stands for Strengths, Weaknesses, Opportunities, and Threats, and the exercise provides a critical look at how you do business and actionable ways you can improve.
Here's how to perform a SWOT analysis and how you can use that information to develop goals for your pharmacy.
Identifying strengths
When conducting a SWOT analysis, start with the positives: your pharmacy's strengths.
Strengths are internal characteristics of your pharmacy that you can control. They are the resources you have at your disposal combined with the experience you have in the industry.
If you're not sure where to start on your strengths, think about these different areas of your business:
Personnel
Reputation
Financial and physical assets
Workflow
Remember, the only things that count as strengths are the practices and assets that have already been put in place. If you think, "Well, right now our workflow tends to get disrupted, but I have a great idea for how to fix it," that's not something you should count as a current strength — but you should hold onto the idea for later.
To make sure that you've listed all of your strengths, ask yourself a few questions:
What does your pharmacy do well?
How do you stand out from your competitors?
What skills do your staff members possess?
How does your community view your pharmacy?
What makes your pharmacy efficient?
Are you consistently meeting your budget goals?
What are your plans to grow?
By sketching out answers to these questions, you'll have a good idea of the positive things you do that keep your pharmacy competitive.
Identifying weaknesses
Once you've amped yourself up listing your strengths, it's time to move on to identifying your weaknesses. Like strengths, weaknesses are internal factors that are within your control.  Think about them in terms of personnel, reputation, resources, and workflow.
To get started identifying your weaknesses, ask yourself these questions:
What do your competitors do better than you?
What resources do you need but not have?
Is any old equipment in your pharmacy holding you back?
Do you have any employees that aren't pulling their weight?
Are there any bottlenecks in your workflow?
When you were creating your strengths list and thought of something that could be a strength but isn't yet — like an upgrade to your current sluggish workflow — that's actually something you should list as a weakness. But now that you've identified that weak spot, you can turn it into a strength.
It may be hard to think negatively about your pharmacy, but remember that no business is perfect. Identifying weaknesses is a necessary first step to making improvements.
On the other hand, if you put on rose-colored glasses and aren't realistic about your weaknesses, your pharmacy will end up suffering in the long run.
Identifying opportunities
After you've exhausted your internal strengths and weaknesses, it's time to look outward to opportunities. These are positive external factors that are out of your control, but once you've identified them, you can figure out how to use them to your advantage.
Think about opportunities in terms of:
Economic trends
Regulatory changes
Market trends
Demographic changes
Ask yourself questions like:
How is the economy trending?
What are new trends in pharmacy that you can adopt?
Are there any helpful regulatory changes on the horizon?
How are demographics in your area changing, and how can you capitalize on that?
Are there any new vendors you can connect with?
In order to identify opportunities, you'll probably have to do some market research. Trade organizations like NCPA and APhA can provide you with excellent resources specifically about the pharmacy industry and keep you up to date on the trends and regulatory changes that could affect your business.
To learn about demographic shifts that could affect what opportunities you have, you can turn to your local library or dig into U.S. Census data. To find out what needs aren't currently being met in your community, conduct your own research through surveys like the Net Promoter Score.
Identifying threats
The final — and most intimidating — step of your SWOT analysis is to identify threats to your pharmacy. These are external factors that are out of your control but could end up hurting your business.
Like in the opportunities section, you'll want to think of threats in terms of regulatory, economic, market, and demographic changes. These questions will help you identify specific threats:
Who are the emerging competitors?
Has there been any recent negative press coverage?
Are there any regulations on the horizon that could hurt your pharmacy?
What services do your patients want that you are unable to provide them?
Is the economy in a downswing?
Are your vendors facing any challenges?
Is your community shrinking?
Don't panic if you end up with a long list of potential threats. You may not be able to control threats, but you can take steps to mitigate the damage they cause, so it's best to be aware of everything that could go wrong.
Using a SWOT analysis
Once you've completed every part of your SWOT analysis, you can use the information you gathered to make a plan to take advantage of strengths and opportunities and avoid the pitfalls of weaknesses and threats. Sometimes this is called a TOWS analysis, and it connects each element from the SWOT analysis to help you create action items for your pharmacy.
There are four ways to formulate solutions in a TOWS analysis:
Strengths-Opportunities: Ask yourself how you can use the strengths you identified to take advantage of the opportunities you identified.
Strengths-Threats: Take advantage of your strengths to minimize the effect of threats.
Weaknesses-Opportunities: Use the opportunities at hand to overcome your pharmacy's weaknesses.
Weaknesses-Threats: Pinpoint ways you can eliminate or minimize your weaknesses and sidestep potential threats.
Once you've generated ideas for each of these categories, you should have enough to create a concrete plan for your pharmacy's future.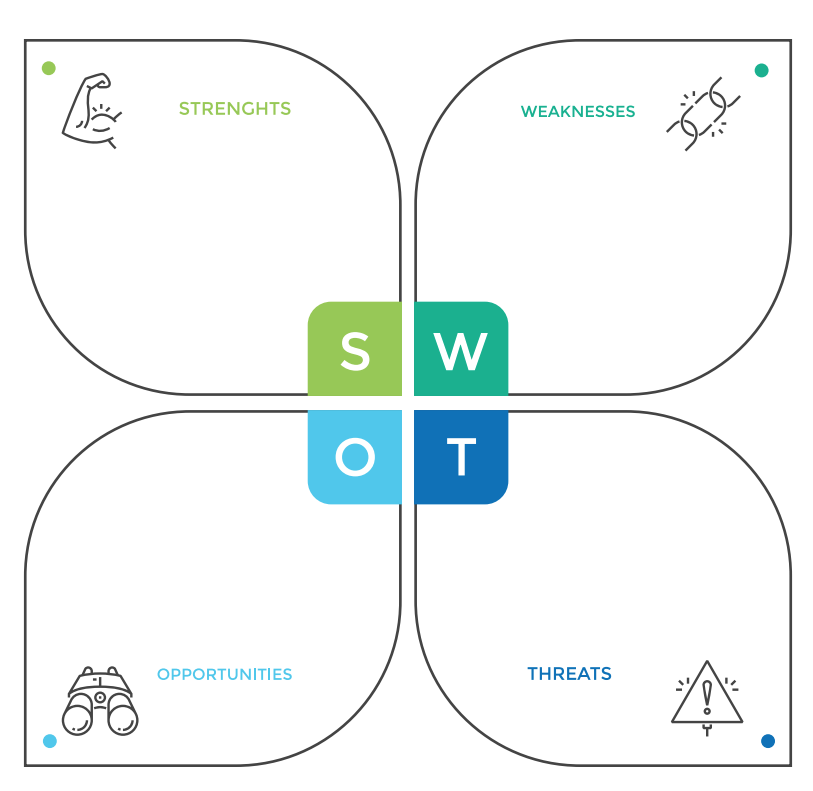 Here's a free SWOT worksheet to get started. 
---
A Member-Owned Company Serving Independent Pharmacies
PBA Health is dedicated to helping independent pharmacies reach their full potential on the buy-side of their business. Founded and run by pharmacists, PBA Health serves independent pharmacies with group purchasing services, wholesaler contract negotiations, proprietary purchasing tools, and more.
An HDA member, PBA Health operates its own NABP-accredited warehouse with more than 6,000 SKUs, including brands, generics, narcotics CII-CV, cold-storage products, and over-the-counter (OTC) products — offering the lowest prices in the secondary market.
---