The mortar and pestle remains the iconic image of pharmacy. But these days a picture of a packaged, manufactured drug might fit better.
Once the standard pharmacy practice, compounding now makes up a small part of pharmacies' prescription sales. If pharmacies offer it at all.
The median percentage of pharmacy sales from compounded prescriptions is only 8 percent. And an estimated 75 percent of pharmacies that offer finished dosage medications don't provide compounded medications.
Many independent pharmacies are missing out on this untapped market.
"Compounding is an area where pharmacies can grab the bull by the horns," said John Norton, director of public relations at the National Community Pharmacists Association (NCPA). "Chain competitors aren't really in that realm or, if they are, it's to a very small extent."
What is a compounding pharmacy?
Many patients need medications that drug manufacturers don't produce. From a child who can't swallow a pill to an adult who's allergic to a certain ingredient. They rely on a pharmacy to create personalized medication for them.
"For a lot of folks, there aren't other options or alternatives for them besides using a compounded product," said Ronna Hauser, vice president of pharmacy affairs at NCPA.
This much-needed personalized care makes compounding an excellent business opportunity for pharmacies.
"It can really help their practice because now they're offering a service that the patient can't get anywhere else," said Donnie Calhoun, CEO of the American College of Apothecaries (ACA) and owner of Calhoun Compounding Pharmacy in Anniston, Ala.
It's the right fit for independent pharmacies. "You can increase your profile, attract more patients and provide more care," Norton said. "It's a natural fit if you can find the resources and time."
Is compounding profitable for community pharmacy?
In a market choked by declining reimbursements, pharmacies need every opportunity to recover lost margins. Compounding provides one of the better channels for profit.
"You're seeing more existing pharmacies, as they have margin pressure on the front end of their store as well as the finished dosage side of their operation, add compounding as a way to enhance the profitability of their business," said Doug Bowman, CEO of Letco Medical, a supplier of compounding products and services. "The profitability really helps the overall viability of the pharmacy."
Calhoun, who's been practicing compounding for decades, experienced the profitable benefits from the moment he started compounding.
"I was maybe doing 10 compound prescriptions a day," he said. "But I would say that those 10 prescriptions would generate enough profit to take up 50 traditional prescriptions. Maybe more."
Rather than paying for a finished product, pharmacies buy compounding ingredients directly. The compounded medication offers higher margins for pharmacies because it requires fewer expenses to provide the product.
But Phil Blouch, U.S. outside sales manager at Medisca, a supplier of compounding products and services, said profitability isn't a given.
"It depends on many factors, such as the suppliers you source from, your operational costs and overhead, the demand and timing of the prescriptions and insurance coverage," he said. "However, pharmacists who are willing to invest the resources and time required to maintain a compounding pharmacy can see a favorable return in profitability."
The cash advantage
Another reason compounding typically yields more profits than traditional dispensing is cash.
Cash payments are more common among compounding pharmacies than traditional dispensing pharmacies. According to an NCPA survey, patients pay for half of compounded prescriptions with cash.
Cash payments allow pharmacies to avoid the reduced margins of third-party reimbursements and the pains of reconciliation.
"The cash pay model really helps cash flow and delivers gross margin on a stable basis for the business," Bowman said.
At Calhoun's Compounding Pharmacy, patients pay with cash for 95 percent of its compounded prescriptions. "Now there's a way you can capture some of that profit back into your pharmacy," Calhoun said.
The prevalence of cash payments also reflects the coverage instability of compounded prescriptions. Medicare Part D doesn't cover compounded medications and the coverage from other insurers "varies greatly," Hauser said.
"We have seen over the last few years fewer and fewer compounds covered. It's becoming more the rule that compounds are not covered," she said.
Lack of insurance coverage isn't a deterrent for patients needing a compounded prescription. "People are willing to pay if you can help their child, if you can help their pet, if you can help their mom," Calhoun said. "They're willing to pay you for your services if you can show them that what you're doing is helping them."
Blouch said the appropriate pay model—whether cash or insurance—should vary from pharmacy to pharmacy.
"The pharmacist needs to determine which business model works best for them based on their niche and types of prescriptions they're filling," he said.
Building revenue
Beyond profit, compounding adds another element to pharmacies' offerings. It makes their business a more attractive choice for patients looking to get everything in one place.
"It really completes the circle of available services that pharmacies can offer their patients," Bowman said. "It's a great complementary offering for patients who are seeking personalized and customized medication, which is on the rise."
Types of compounding to offer:
Dentistry
Dermatology
Gastroenterology
Hormone replacement therapy (HRT)
Hospice
Infertility
Medication

 fl

avoring
Men's health
Neuropathy
Ophthalmology
Otic (for the ear)
Pediatrics
Pain management
Podiatry
Sports medicine
Veterinary
Women's health
Wound therapy
Blouch agrees and he added that compounding can also keep customers loyal to your pharmacy. "This service will allow your patients to visit your pharmacy as a 'one-stop shop,' preventing them from shopping elsewhere for their custom prescription needs," he said.
And, the patient interaction required for compounded medications creates a unique bond not seen with standard retail pharmacies. "This type of relationship is invaluable for long-term client retention," he said.
In combination with other services, like immunizations and medication counseling, compounding adds new revenue streams for pharmacies.
"All these things can help bring residual income so you're not dependent on those third party contracts," Calhoun said. "My goal for ACA members and for all community pharmacists is to take that PBM portion of your business and to make that smaller and smaller so eventually the PBM business is such a small part of your overall business that you don't need it anymore."
Compounding also broadens the pharmacy's customer base by capturing a special market share within independent pharmacy.
"Compounding can be a good niche service and a good source of revenue," Hauser said. "The more specialized you become, there's a need to provide compounds to a wider geographical area."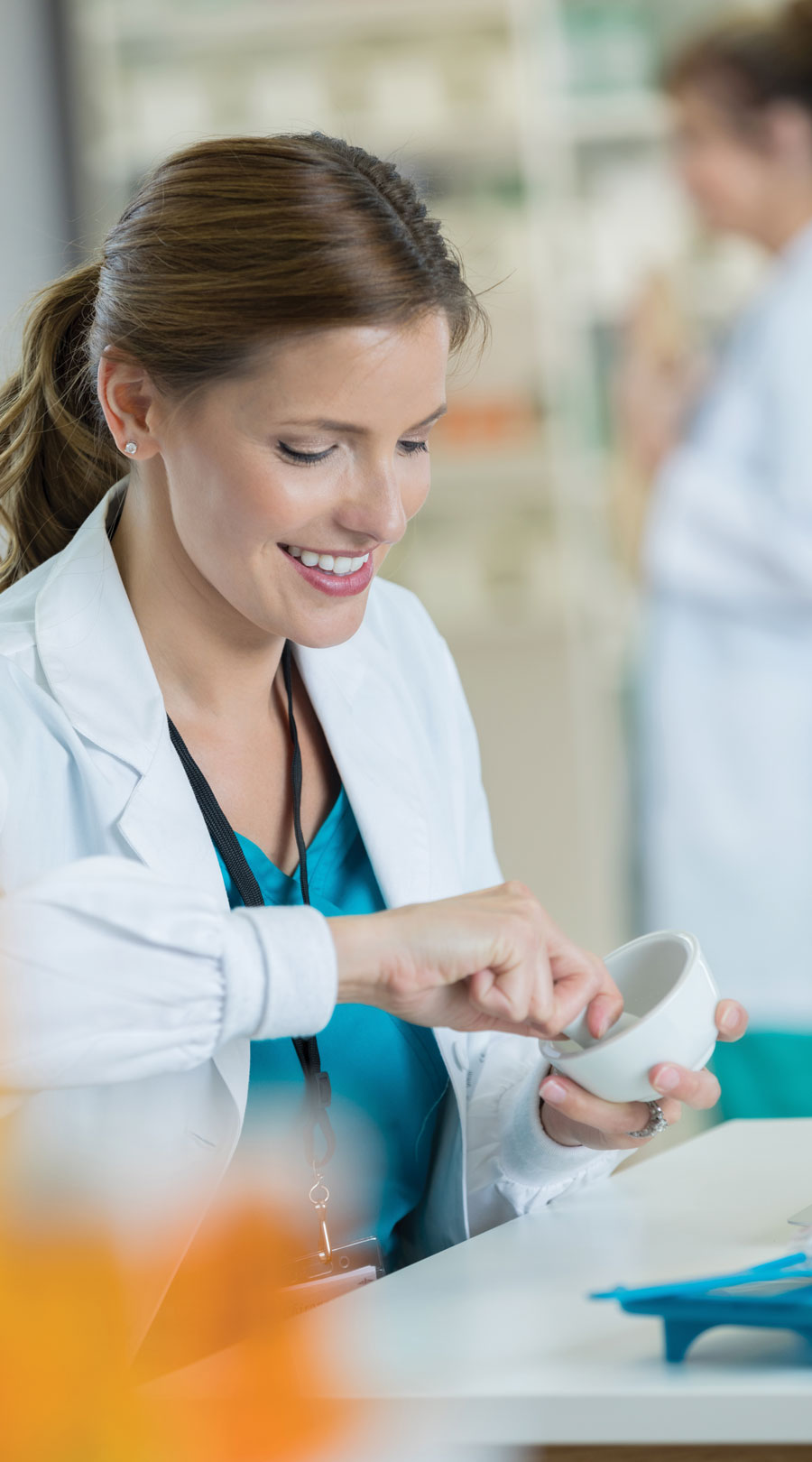 How to become a compounding pharmacy
You're ready to dip your toe in the compounding water, but where do you start? From sterile to non-sterile, hazardous to non-hazardous, basic to specialty, there's an overwhelming spectrum of options.
Pharmacies must look at the needs of their community first. "Talk with your local physicians and patients," Blouch said. "Understanding your audience is the easiest path to success and can eliminate wasted time and money."
Knowing the disease states of patients and the specialties of prescribers will help you find the best approach to generate a return on investment. For example, the veterinary clinics in your community may be outsourcing compounding medications to a pharmacy in another city because no one provides those services locally.
After speaking with those clinics, you can gain valuable veterinary business. You'll likely get patients immediately, which will offset capital costs more quickly and help improve cash flow.
"If you're the only one in a one-hundred-mile radius offering those services, those could be lucrative," Calhoun said.
But there's no one-size-fits-all approach. "It's going to vary from one practice setting to another," Calhoun said. "Look at your patient population and look at the unmet needs occurring in your marketplace."
Although it's crucial to start by understanding local patient and prescriber needs, Hauser said the most successful compounding pharmacies build long-term relationships with prescribers and physicians.
Unexpected health care facilities that need compounding:
Ambulatory service centers
Clinics
Dermatologists
Health systems
Ophthalmologists
Zoos
"Pharmacies that have been able to form those partnerships and relationships over time are thriving in the compounding business," she said.
After you pinpoint the best opportunities in your community, Calhoun suggests starting slow.
"You don't go out and start swimming on day one. You put the floaties on first. Then, once you learn how to float on your back and once you can swim under water, before you know it, you're swimming," he said.
"Pick one thing that you're passionate about and learn all you can about that. Become the expert in your community in that area."
Abundant resources
Pharmacies that decide to start compounding don't have to go at it alone. Plenty of resources exist to help them get started and to guide them along the way.
Compounding suppliers
From the start, pharmacies should seek the services of a professional compounding supplier that can provide comprehensive training, education and materials.
"We consider ourselves a primary supplier, no different than you would have on the finished dosage side," said Bowman of Letco Medical.
"Compounding pharmacists and techs staff our professional services team and we guide the pharmacy through the startup process. We offer a turnkey service to help them get from zero to starting up a compounding offering fairly quickly."
Likewise, Blouch said Medisca helps pharmacies with any compounding need they may have. "Our approach is to address each pharmacy as a partner and to bring value with each interaction," he said.
Pharmacy associations
Pharmacy associations also provide helpful resources. For example, the ACA offers two- to three-day ACPE-accredited training courses for pharmacists and technicians in six different areas. Its programs emphasize one-on-one instruction through classes of 12 people or fewer taught by expert practitioners or college faculty members. It also offers webinars, on-site training and home studies.
"Training is important at every level," Calhoun said. "And you want to practice at the highest level because you want patients to have trust and faith that you're making something for them that's going to give them a benefit and that's going help them get better."
Academic journals
Hauser and Calhoun suggested pharmacists read Dr. Loyd Allen's International Journal of Pharmaceutical Compounding (IJPC), a bi-monthly, scientific and professional journal emphasizing quality pharmaceutical compounding.
Dr. Allen is considered the chief guru of the compounding industry. The American Pharmacists Association (APhA) provides an excerpt from Allen's book, "The Art, Science, and Technology of Pharmaceutical Compounding," on its website. Many treat the book as the standard guide on compounding. "Every single one of our fundamental students gets one of those books to take home," Calhoun said.
Associations, suppliers and academia provide vast resources, but Calhoun stressed that nothing can replace having an experienced personal guide walk alongside you.
"You need a good mentor," he said. "We all learn from our experiences. So, if you can find someone who's been there and done that, it makes your path easier. Then, the sky is the limit."
The cost of compounding
How much it costs to start compounding varies. Costs depend on the type and amount of compounding services you provide.
"On one end of the spectrum if a pharmacy wanted to get into basic compounding, like pediatrics, the startup costs could be as little as a few hundred dollars," Bowman said. "For larger and more complex compounding like sterile injectables, those are typically found in specialized compounding-only pharmacies. Those startup costs can substantial, in the hundreds of thousands of dollars."
Costs associated with compounding include:
Capital equipment
Facility formulation
Ingredients
Production procedures
Quality and compliance systems
Specialized training
Tools
Compliance requirements force pharmacies to invest in particular equipment, like the reconfiguration of labs and AC systems and protective personnel equipment. "Those costs are pretty large," Hauser said. "So, you don't see many people starting from scratch these days or if they do, they go slow and start with non-sterile."
These costs are another reason Calhoun said to start small. "I tell people, you can start compounding with a mortar and a pestle," he said. "You don't have to have all the expensive equipment to become a compounder. You can start with basic equipment and start out doing one thing."
Following regulations
Compounding pharmacies follow the same regulatory organizations as traditional dispensing pharmacies. They must comply with the Food and Drug Administration (FDA), the Drug Enforcement Agency (DEA) and the state boards of pharmacy.
But compounded drugs aren't subject to FDA approval, like manufactured drugs. As long as pharmacies fill prescriptions written by doctors, the FDA doesn't consider them manufacturers.
Other regulations for compounding pharmacies come only from the state board of pharmacy. The United States Pharmacopeia (USP) details restrictions, requirements and guidelines for compounding, but the state board of pharmacy determines which chapters to enforce and what specific regulations within each chapter to enforce.
Because USP enforcement is state-based, the regulations vary.
"It's definitely not the same across the country," Hauser said. "It's so important that wherever your pharmacy is, in whichever state, you need to know the rules. It all stems from knowing what your state board requires with compliance with USP."
USP guidelines to know:
USP 797: Standards for Compounding Sterile Preparations
Helps to ensure patients receive quality preparations that are free from contaminants and that are consistent in intended identity, strength and potency.
This guidance includes:
Responsibilities of compounding personnel
Training
Environmental monitoring
Storage and testing of

 fi

nished preparations
USP 795: Standards for Compounding Quality Non-Sterile Preparations
Provides guidance for nonsterile preparations compounded in health care settings.
This guidance includes:
Categories of compounding (simple, moderate, complex)
Defines concepts, such as beyond-use date and stability
Provides criteria for compounding pharmacists to follow in preparing various drug preparations
USP 800: Safe Handling of Hazardous Drugs
Establishes practice and quality standards of hazardous drugs to minimize the exposure to hazardous drugs within health care settings. This standard aims to promote worker safety, patient safety and environmental protection. It goes into effect July 1, 2018.
The regulations also vary depending on the type of compounding. Sterile compounding with hazardous material, for example, faces stricter regulations than non-sterile and non-hazardous compounding.
"It's a fluid world right now in compounding," Hauser said. "You have to stay on top of the issues and make sure you're following the playbook as it exists today because it could change soon."
A bright future
Compounding returns pharmacists to their original roles as preparers of medication. It also enables them to offer personalized care.
"Compounding gives pharmacists the chance to do pharmacy again," Calhoun said. "Compounding is the art of pharmacy, it's how pharmacy started. What drives me is being able to get great patient outcomes by what we do, not by what we put into a bottle."
And the future is up to you.
"The future for personalized medication and the compounding business is bright," Calhoun said. "At the end of the day, it's all about the patient. That's why we're pharmacists to begin with. That's why we get up and go to work every day. We're here because things made in factories can't meet all of our patients' needs."
---
Common excuses for not compounding
Have you made any of these excuses for not compounding? Donnie Calhoun, CEO of the American College of Apothecaries (ACA), eases pharmacists' fears about compounding.
"I don't have the skills."
All the skills you need to get started you already learned in pharmacy school. Beyond that, seek out resources to grow your skills. Pharmacy associations and compounding suppliers offer hands-on training for whatever stage you're at.
"I can't afford it."
Compounding doesn't need to break the budget. You can start small, with only a mortar and pestle, and slowly work your way up to more services that require more expensive equipment.
"I can't handle the regulations."
Compounding comes with extra regulations, but the lucrative margins of compounded medications can make up for the cost and time required for compliance. You have access to resources and guides to help you stay up-to-date on regulations and to make sure you're staying compliant.
---
A Member-Owned Company Serving Independent Pharmacies
PBA Health is dedicated to helping independent pharmacies reach their full potential on the buy-side of their business. Founded and owned by pharmacists, PBA Health serves independent pharmacies with group purchasing services, wholesaler contract negotiations, proprietary purchasing tools, and more.
An HDA member, PBA Health operates its own NABP-accredited secondary wholesaler with more than 6,000 SKUs, including brands, generics, narcotics CII-CV, cold-storage products, and over-the-counter (OTC) products — offering the lowest prices in the secondary market.