On the surface, calculating a pharmacy's cost of goods is simple. When you put in an order, you receive an invoice with a straightforward dollar amount. That's what you pay to stock your shelves.
But as seasoned pharmacy owners and operators know, that is not the end of the equation. The invoice price does not reflect the actual price of goods at the end of the month. That's because pharmacies receive money back from wholesalers based on their purchasing decisions. These rebates play an enormous role in your final cost of goods, potentially reducing it by thousands of dollars.
Because inventory is your biggest expense, it's crucial to know how wholesalers determine your rebates so you can get an accurate measurement of your cost of goods, rather than counting on your invoice alone. These principles will help you calculate your wholesaler rebate and take control of your pharmacy finances.
What determines your rebate
What makes your wholesaler rebate so complicated is that it's not based on one simple formula. Several terms that can affect your rebate, and changing one affects the others.
These are some of the most common factors used to calculate pharmacy wholesaler rebates: generic compliance, performance incentives, specified contract terms, total volume, percentage of volume, and more. To calculate your rebates, you have to track all of these incentives simultaneously.
Out of the litany of factors that affect how your pharmacy wholesaler rebate is calculated, one stands out: the generic compliance ratio, also referred to as monthly source compliance or another similar title. The generic compliance ratio is typically defined by the percentage of generic purchases compared to your total purchases.
Generic Compliance Ratio = Generic Purchases / Total Prescription Purchases 
Generic compliance rebates are rewarded on a tiered system, which means the more generics you buy, the more you're rewarded. For example, a wholesaler's rebate structure might say that if you purchase 10 percent generics, you get a 10 percent rebate. But if you purchase 15 percent generics, you can get a 20 percent rebate. Some wholesalers may offer rebates of up to 35 percent.
There's a lot of money on the table for pharmacists who maximize their generic compliance. Pharmacists who pay attention to this number can see rebates of more than a hundred thousand dollars in a single year. See the table below as an example rebate matrix for generic compliance.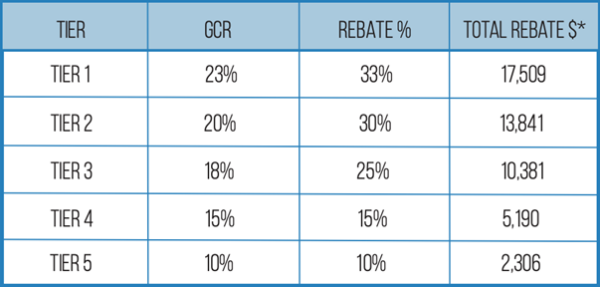 ---
Factors That Influence Your Rebate
Generic rebate based on generic ratio
Rebates for reaching a specified ratio of generic purchase volume relative to overall Rx volume
Generic rebate based on Generic dollar volume
Rebates for reaching a specified dollar volume of generic purchases
Additional performance/program related incentives
Rebates based on participation in certain programs or specified performance metrics
Specified contract items
Portfolio of generic contract items that are eligible for rebate
Designated specialty items
More expensive brand items that factor into incentive structures differently than traditional brand items
Pay terms
Additional discounts based on how quickly the pharmacy pays for the inventory
Total dollar volume commitments
Total dollar amount the pharmacy agreed to commit to purchase from wholesaler
Percentage of volume commitments
Percentage of purchases the pharmacy agreed to commit to purchase from wholesaler
---
Making the most of incentives
Maximizing your contract incentives means walking a fine line between purchasing drugs from the most affordable secondaries and maxing out your potential primary rebate.
Though it may seem counter-intuitive, to get the lowest price of goods, you don't always need to buy drugs at the lowest prices. You may be able to get an item cheaper at a secondary wholesaler, but that could cost you in the long run.
Because so many primary wholesaler rebates require hitting certain volume commitments, spreading out your purchases across secondary wholesalers could make you ineligible for bigger savings.
To keep your pharmacy in the highest rebate tier, keep a constant eye on your purchasing data. If you're currently at a generic compliance ratio of 19 percent, it's probably smarter to keep purchasing generics from your primary wholesaler and get yourself into a more profitable rebate tier rather than going with cheaper options at a secondary. The savings you can reap when you achieve that higher tier will likely outweigh what you'd save on any individual purchase from a secondary.
For example, a seemingly innocuous purchase outside the primary contract may take you from 18% to 17.99%, which would drop you a tier and lose you more than $4,000 for that month (according to the sample matrix we're using).
That doesn't mean you can never buy secondary items, but it's critical to be aware of where you stand within your rebate structure before looking outside of your primary wholesaler to save a few bucks.
---
Get better rebates, guaranteed
Between driving a hard bargain during negotiations and constantly monitoring your purchasing to ensure you're meeting your contract terms, calculating your pharmacy wholesaler rebate can turn into a full-time job.
With ProfitGuard®, you can take those tasks off your plate and get back to patient care. ProfitGuard takes the uncertainty out of data analytics and does all the monitoring and predicting for you. ProfitGuard provides daily purchasing recommendations to ensure you're maximizing your rebates by fulfilling all your contract incentives while also saving money on sticker prices. In other words, it ensures you're paying the lowest cost of inventory and earning maximum profit.
"The Navigation Report is short and to the point, allowing us to maximize our rebates by allocating purchases to the proper supplier," says Dick Roberts, owner of Eureka Pharmacy. "Now we are able to move purchases … to maximize our generic compliance ratio on both accounts and maximize our rebates."
ProfitGuard members have averaged between $70,800 and $212,400 in annual savings on their cost of goods.
"It's the industry game changer for the independent pharmacy owner or operator," says Huy Duong, owner of Dale's Pharmacy. "There's nothing out there like it on the market."
"It's worked great for us," said John McNeill, owner of Nichols Southside Pharmacy. "It saves us a lot of time. It's been great for our pharmacy in terms of maximizing our rebate percentages."
---
From the Magazine
This article was published in our quarterly print magazine, which covers relevant topics in greater depth featuring leading experts in the industry. Subscribe to receive the quarterly print issue in your mailbox. All registered independent pharmacies in the U.S. are eligible to receive a free subscription.
More articles from the June 2022 issue:
---
A Member-Owned Company Serving Independent Pharmacies
PBA Health is dedicated to helping independent pharmacies reach their full potential on the buy-side of their business. Founded and run by pharmacists, PBA Health serves independent pharmacies with group purchasing services, wholesaler contract negotiations, proprietary purchasing tools, and more.
An HDA member, PBA Health operates its own NABP-accredited warehouse with more than 6,000 SKUs, including brands, generics, narcotics CII-CV, cold-storage products, and over-the-counter (OTC) products — offering the lowest prices in the secondary market.
---