Inside: People want delivery today. Whether it's for their monthly vitamins or their lunch. Discover what the rapid rise of delivery services in retail means for your independent community pharmacy and how to start your own pharmacy delivery service.
With a call or click, people today can get nearly anything they need delivered to them.
Groceries? Nearly every grocery chain will walk the aisles for you and deliver your customized list of sundries to your doorstep. If the store doesn't offer delivery, order through the fast-growing, multi-billion-dollar grocery delivery company Instacart.
Need a household item? Amazon will deliver to your door in two days and possibly within an hour.
Everyday tasks or errands? Outsource it all through startups like TaskRabbit.This online marketplace connects you to reliable locals willing to do everything from assembling furniture to mounting a TV for a fee.
Hungry? Choose from a number of restaurant delivery services, like Grubhub, Uber Eats, DoorDash, or Postmates. A delivery driver will grab your dinner from almost any restaurant you desire and deliver it to you. (Everything goes through an app. Ordering the food. Paying. Monitoring the delivery.)
A growing market
The demand for delivery has grown faster than you can open an app on your smartphone. Experts predict food delivery service alone to be worth $76 billion by 2022. In just the last five years, restaurant deliveries rose 10 percent. Restaurants in metropolitan areas have had to turn customers away because demand is so high.
What started primarily as a food industry service has spread to almost every other sector of retail. Every day more retail businesses add delivery to their repertoire in response to growing expectations.
Some of the largest retail giants, like Target, have recently succumbed to this growing public demand. And just this August, the largest grocery chain in the country, Kroger, rolled out a delivery service to win customer loyalty and to compete with online retailers.
"Delivery is a huge, growing market. And it is changing our culture," said Daniel Levine, a trends expert, keynote speaker, and founding director of the Avant-Guide Institute, a leading authority on social trends driving the global marketplace. "It's the future for retail businesses and consumers alike."
Following the trend
Retailers that don't offer delivery are becoming increasingly rare. In an age where consumers summon everything they want from the comfort of their homes, can independent pharmacies afford to miss the bandwagon?
The big players think it's worth it. CVS recently added delivery at all its locations across the U.S. And, Walgreens, Walmart, and Costco all offer some form of prescription delivery. Amazon's $1 billion purchase of PillPack shows how much value the retail giant forecasts for the prescription delivery business.
Fierce competition is already at hand among third-party companies that see a big opportunity in prescription delivery.
Companies currently partnering with pharmacies to provide delivery include:
GetMyRx
Phil
Phox Health
ScriptDrop
A new crop of thriving startup pharmacies has popped up that only offer delivery like:
Alto
Capsule
Nimble
NowRx
ZipDrug
"The 'Uberization' of pharmacy has created a marketplace expectation for easy access and delivery," said Suzette DiMascio, CHE, CMCE, CPC, President and CEO of the CSI Specialty Group, a leadership, strategy, and talent consulting firm in the specialty pharmacy industry. "In metropolitan areas, delivery, once the great differentiator, has become the expected norm."
Although the trend is escalating, a pharmacy delivery service is nothing new to independent pharmacy. After CVS announced its nationwide delivery service, independent pharmacy organizations like the National Community Pharmacists Association (NCPA) were quick to point out that independent pharmacies across the country have offered prescription delivery for years.
"How often have we seen big box stores announce something and get all this national press when independents have by and large been doing it?" said Kurt Proctor, Senior Vice President of Strategic Initiatives at the NCPA. "CVS is jumping on the bandwagon in the face of Amazon."
Approximately 70 percent of independent pharmacies say they already offer delivery services, according to the 2017 NCPA Digest. Although that's a healthy percentage, it still leaves almost a third of independent pharmacies without a delivery program in this golden age of delivery.
To deliver or not deliver?
Whether to offer prescription delivery depends on your pharmacy.
"We so often talk about independent community pharmacies like they're this homogeneous group of things, like whatever topic we're talking about applies to all of them," Proctor said. "And that's certainly not the case. But overall, it's clearly an important offering that they should at least be considering."
Among the considerations are what you're losing by not offering a prescription delivery service, which could include current and new patients. "The demand is huge and it's only growing," said Nick Potts, Founder and CEO of ScriptDrop, a prescription delivery and medication reminder service. "Two years from now, if a pharmacy doesn't have prescription delivery as a base offering that they actively market, then competing for patients will prove insurmountable."
Although that may not hold true for every pharmacy, certain benefits like increased revenue and more patients could make prescription delivery worth the investment.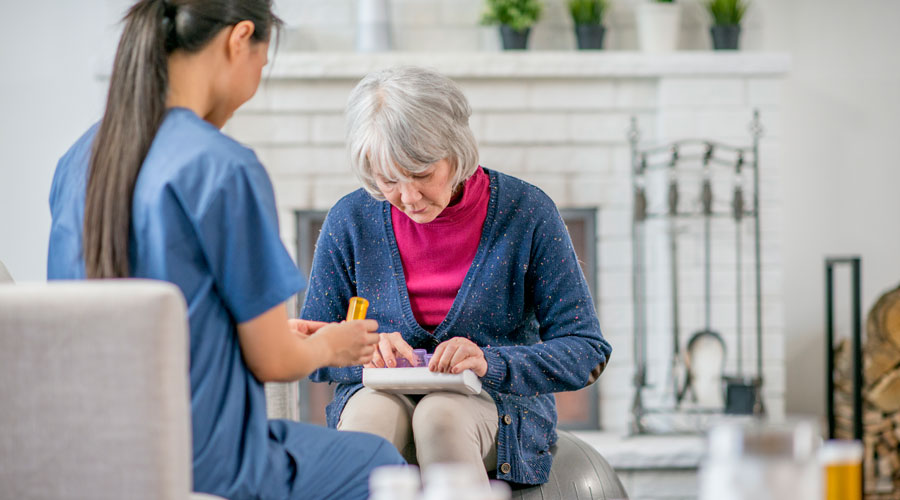 A new source of revenue
Some sources estimate that a delivery service boosts pharmacies' revenue 6 to 8 percent on average within the first four months. If the restaurant industry is any indication, those percentages reflect the low-end of growth pharmacies could experience with delivery. In an industry where margins continue to plummet, the bump in revenue could be a big deal for business.
Studies also show that home delivery increases patients' adherence, especially for those with chronic conditions. If your patients with chronic conditions boost their adherence, they'll boost your revenue, too. Why? Refilled medications earn more revenue than those left on the shelf.
Delivery could turn the heads of medical payers as well. Proctor of NCPA said that if independent pharmacies treat delivery as a home visit rather than a drop-off, it could pique the interest of medical payers, who are looking for more care management.
"Done correctly, the independent's home visit delivery combination checks the box on the care management activity," Proctor said. "And the medical-side payer community, not the PBMs, are extremely interested in that because they pay so much for care management today. If we're already at the house taking those extra steps and efforts to check on the patient and caregiver and the whole situation, identifying needs will go a long way toward keeping people out of the hospital and lowering total healthcare costs, which is really the name of the game."
Gaining new patients
Prescription delivery can also deliver new patients through your doors. In a survey by Drug Store News, 70 percent of patients said location mattered most when it came to their pharmacy. For independent pharmacies that can't afford to build more brick-and- mortar locations, that's an issue.
But delivery broadens your footprint. It enables you to reach patients who otherwise wouldn't come to your location. "When a retail business like an independent pharmacy offers delivery, they expand their 'storefront' to an entire neighborhood," Devine said. "The business is no longer constrained by location, so they become accessible to everyone, and anytime."
The Drug Store News survey also revealed that 94 percent of patients care about convenience above all else. And, delivery offers the supreme convenience.
Delivery also gets your name in front of fresh eyes. "Those delivery vehicles are mobile billboards," Proctor said. He suggested getting the vehicle wrapped to include your pharmacy's logo, colors, and information. When the vehicle makes its rounds in the community, it will raise awareness about your pharmacy and what you offer.
Or, partner with a third-party service like Phox Health or Phil to funnel new patients to your pharmacy. Without the extra headache of managing the delivery service yourself. Patients who use Phox Health or Phil provide their prescription and the companies send it to one of their partner pharmacies to fill.
Improving patient relationships
Deliveries can serve as an extra connection point with patients. When your staff members deliver patients' prescriptions to their homes, they get more context about patients' health by seeing their home life.
"It's more of an engagement," Proctor said. "You're still engaging with an employee at the pharmacy and they're able to take back issues." He said some NCPA members have their staff members bring iPads and FaceTime with the pharmacist or take notes to give to the pharmacist after home visits. Those interactions can set your pharmacy apart and cultivate deeper relationships.
A pharmacy delivery service especially helps pharmacies stay connected with older Americans who are less mobile. Elderly patients have easier access to their medications, and your counsel, without the risks or hassle of trekking to a pharmacy. A study from Brown University even showed that increased access to delivery services could result in fewer older Americans in nursing homes. And, these patients typically make up the most lucrative demographic for pharmacies.
"The delivery model will be instrumental in helping more Americans age in place," Devine said. "When you can have everything you need delivered to you, you no longer worry about having to go out so frequently."
Making it work
Starting a delivery service doesn't come without risk. If not done well, it could do more harm than good.
"For retailers, delivery poses an entire set of challenges that most sellers are not equipped to handle," Devine said. "This includes a minefield of customer service issues, like late delivery and missing items, to name just two. The biggest challenge with delivery is if you get it wrong, it becomes a huge mark against you, one that can ricochet around the web's many social media and review sites."
As with any new service, administrative responsibilities increase. Make weighing the burden of these requirements against the benefits of offering a delivery service your starting point.
You'll need to consider how you'll get the medication to your patients. Will you buy a car and hire drivers? Will you outsource the job? If you keep it in-house, you'll have to train or hire employees to deal with customer service issues related to delivery. You'll have to invest in a system or software that allows patients to order their items. And you'll have to hire employees to coordinate deliveries and manage logistics.
These administrative tasks come with costs.
Some of the expenses you'll incur include:
Salaries
Vehicle purchase
Insurance
Gas
Maintenance
Marketing
And, the time and attention required to successfully incorporate in-house delivery, both from a logistics and workflow standpoint, might not serve your pharmacy business best. "Having a process that is labor-intensive doesn't allow you to focus on growing your business. You get in the rut of managing your business," Potts said.
If you want to outsource delivery, you have options. Companies like Deliv Rx supply drivers guaranteed to make same-day deliveries. Phil, Phox Health, and GetMyRx handle orders and payments, serving as coordinators between you and patients.
ScriptDrop provides both the ordering interface and the drivers, so all you have to do is dispense the prescription.
"We take on the burden of any and all administrative considerations," Potts said. "Having a driver on staff comes with a lot of administrative overhead and risk. If a pharmacy works directly with a courier in any given market, they lose out on a lot of the efficiencies that ScriptDrop is able to offer from our experience and background in pharmacy workflow and healthcare IT."
Although outsourcing the entire service could save you money and headaches, it also comes with risks. Patients will associate the third-party service with your pharmacy, which you have no control over. If their service isn't up to your standards, it could tarnish your pharmacy's image. Outsourcing the physical delivery also means you can't interact with your patients and offer a value-added home visit. And you'll miss the opportunity for the delivery vehicle to promote your pharmacy.
If you decide to keep your pharmacy delivery service in-house, find ways to streamline and maximize your efforts. "If your store also does medication synchronization, consider how you can group delivery patients by geography and align their meds all on one day. That will save you both time and money," said Christopher K. Lee, MPH, CPHQ, a healthcare business consultant.
Spread the word
Of the 70 percent of pharmacies that currently offer a pharmacy delivery service, many of them drop the ball when it comes to telling their patients about it. "Independent pharmacies don't have a service problem; they have a marketing problem," Lee said. "They offer a ton of value and nobody knows about it."
Because the majority of independent pharmacies already offer a pharmacy delivery service, Proctor said marketing is the number one concern. "The most important thing is for folks to make sure their marketplace knows they deliver," Proctor said. "Make sure their local community knows what they do and what services they offer and that it's available right there."
Proctor recommended capitalizing on press announcements by the national chains and big box stores. For example, the CVS delivery announcement creates the perfect opportunity for independent pharmacies to notify patients that they already have a pharmacy delivery service.
"I always suggest that independents use those kinds of opportunities to run to their local newspaper and make sure they know what their pharmacy does," he said. "Whether it's, 'We've never sold tobacco in 80 years of this store operating, so why is CVS taking tobacco out of their stores a huge topic? Or, we've been doing packaging and delivery of prescriptions for forever.'"
Differentiate your pharmacy delivery service
Now that CVS and other national chain pharmacies offer delivery, independent pharmacies need to find ways to set their pharmacy delivery service apart.
One way is price. CVS charges a steep fee: $4.99 for two-day delivery and $8.99 for the same day. Independents can undercut that price. "If you offer prescription delivery, that business should be yours," Lee said.
Another is wait time. Independent pharmacies are in a prime position to solve that problem better than CVS or Amazon. Independent pharmacies serve customers who typically live closer to the pharmacy. So, they can deliver patients' prescriptions on the same day they order them.
Proctor stressed the personalized advantage independent pharmacies can use to differentiate their pharmacy delivery service. Use it as an opportunity to expand your pharmacy's care. Rather than a generic or a contracted delivery person dropping a bag on the porch, do a wellness visit. During the home wellness visit, identify potential problems, like fall risks or lack of transportation. And answer medication questions.
"There's a huge difference between an employee of the local independent pharmacy who you've known and who has maybe been delivering to you for many years versus whatever contracted delivery service a big box chain is going to use," he said. "That's a very different service and a different level of care. The independents have got to make sure that they're emphasizing those differences."
Offering personalized care is what makes independent pharmacies different. (A pharmacy delivery service is one way to do that.)
"Keeping people out of the hospital, keeping people healthy is what we're all about," Proctor said. "We're well-positioned to play a bigger role there than we have historically. If we're going to bust out of that and differentiate ourselves, whether it be from Amazon, PillPack, or the big box chains, these are the kind of things that are the right strategy for most pharmacies."
---
Delivery Partners
As the demand for delivery grows, new startups are popping up. Some partner with independent pharmacies to offer delivery. These include everything from contract drivers and courier services to full logistics solutions.
If you're looking to get some help or to outsource prescription delivery, take a look at these companies to find one to fit your needs.
---
Cost Considerations
Adding a pharmacy delivery service isn't free. Estimating what you'll have to spend will help you decide if it's worth it. Or, if you want to hire another company for a fee. Some cost considerations include:
Employee salaries
Gas
Insurance
Maintenance
Software for managing deliveries
Vehicle purchase or lease
---
Questions to Answer
If you're going to offer a pharmacy delivery service, your independent pharmacy has a lot of decisions to make. Make sure you know the answers to these questions before you start.
What times of day will you deliver?
How soon will patients receive their delivery?
How far will you deliver?
How many drivers will you need?
How many vehicles will it take?
How will you ensure the safety of the prescription?
How will patients order their delivery?
How much will you charge?
---
A Member-Owned Company Serving Independent Pharmacies
PBA Health is dedicated to helping independent pharmacies reach their full potential on the buy-side of their business. Founded and owned by pharmacists, PBA Health serves independent pharmacies with group purchasing services, wholesaler contract negotiations, proprietary purchasing tools, and more.
An HDA member, PBA Health operates its own NABP-accredited secondary wholesaler with more than 6,000 SKUs, including brands, generics, narcotics CII-CV, cold-storage products, and over-the-counter (OTC) products — offering the lowest prices in the secondary market.