Within your community, there are thousands of patients who may never walk through the doors of a pharmacy but have a need for prescription medications.
These patients live in group homes, assisted living facilities, continued care retirement communities, nursing homes, and other residential centers, and they often have complex needs for individualized care.
By establishing relationships with these long-term care (LTC) facilities, you can access these patients to broaden you base and grow your pharmacy. In these relationships, your pharmacy meets the facilities' needs by dispensing medication in specialized compliance packaging and giving consultations to individual residents.
"This is a way to provide communities with services they need, and provide a human touch," said Bill Popomaronis, vice president of professional affairs at the National Community Pharmacists Association.
Offering LTC services opens up an incredible opportunity for pharmacists to increase the volume of their business. "Once you reach 100 residents, that's worth about $500,000 in additional business," Popomaronis said. "That number is based on the number of prescriptions that a particular patient might use and other factors, but I believe it to be a conservative number."
According to some estimates, nearly 12 million people over the age of 65 will need LTC services by 2020. These patients suffer from multiple comorbidities, taking 12 prescriptions per month, 71 percent of which are brands, according to a report by McKesson (Becoming a Long-Term Care Pharmacy). Gross margins average 30 to 40 percent. According to the report, "With the average facility housing 100 residents, with each resident taking approximately 12 prescriptions per day, and with gross margins of 30% or even more, LTC pharmacy can represent a significant, attractive, and growing opportunity."
The pharmaceutical industry rewards those who participate in long-term care relationships. Because working with the compliance packaging required by LTC facilities can be costly and time consuming, insurers will pay a higher price when pharmacies dispense those medications.
Full-time, closed-door LTC pharmacies and combination pharmacies also see the added perk of not having to deal with DIR fees that eat away at profits. The lack of DIR fees alone has been enough to attract many traditional community pharmacies into the long-term care business, making the market increasingly competitive.
For Randy McDonough, co-owner and director of clinical services at Towncrest Pharmacy, the key to financial success in the LTC marketplace is knowing the true value of the pharmacy's services. "When we talk to these group homes, assisted living facilities, and nursing homes, we always talk in terms of the services we can provide them," he said. "And we don't cheapen those services. They aren't something we give away. We make sure they understand the total value."
By providing services beyond dispensing medication in compliance packaging, Towncrest Pharmacy has found even more profit opportunities in its LTC relationships. For one of its group homes—which is home to about 100 patients—it performs medication management reviews twice a year. McDonough explained, "The organization pays for it out of their funds because they see value in it."
Towncrest has turned its relationships with LTC facilities into a true collaboration. Because of the individualized attention it provides, the pharmacy has seen a financial return. "Wrapping in services that optimize individual medications has really helped us to secure the contracts that we have," McDonough said. The pharmacy takes on the cases of residents with complex medical needs and works with physicians to adjust their medications, or it will work to decrease the number of medications residents are on.
Entering the LTC Market
For many pharmacies, getting a foot in the door of long-term care pharmacy is as simple as being approached by a local nursing home or residential facility to handle their prescription needs. "Then, all of a sudden, you're in the business," said Popomaronis. "Instead of putting medications in bottles, you're putting them in compliance packaging."
Pharmacies considering expanding into long-term care can start out with relatively few adjustments to their current business. They can purchase prescriptions off their existing contracts and use the same license and space to serve their LTC clients.
That's how Towncrest entered the market in 2012. "We had group homes that we treated more like traditional inventory patient populations. We billed them similarly and filled prescriptions like we would the regular patients that come into our pharmacy," McDonough said.
Once a pharmacy has established a healthy revenue stream from LTC contracts, it might consider making additional changes. Operating as a combination or closed-door pharmacy will require investment, but both have access to special pricing and rebates. A combination pharmacy might run both its retail and LTC operations under one pharmacy license, but some inventory may require segration due to pricing specific to the LTC division of the practice. Also, the LTC division will use its unique National Provider Identifier (NPI) and National Council for Prescription Drug Programs (NCPDP) numbers to adjudicate claims for those plans that do have an LTC contract.
A closed-door pharmacy, on the other hand, must have a completely separate license and physical address from a retail pharmacy. Closed-doors also have to cut through a lot of red tape and meet a long list of state and federal requirements, like having someone on-call at all times and only dispensing branded drugs in quantities of 14 days or less.
More Than a Sales Pitch
Since many community pharmacists already deliver prescriptions to the homebound, working with LTC facilities can feel like a natural extension. Group homes, nursing homes, and other residential centers often have requirements for compliance packaging and for assistance in managing the prescriptions of residents who have multiple medications and dosing times. If a local pharmacy is present and understanding of these needs, LTC facilities will be eager to make the match.
But like with other prospects, pharmacies still need to make a case for their services, especially if there are other LTC pharmacies in the area. "Find out what their pain points are," Popomaronis suggested. Whether they aren't happy about the way their prescriptions are currently packaged or there are other services they need that aren't being provided, a pharmacist can go into a facility armed with the knowledge of what's keeping the facility's medical director up at night and make a strong pitch for the pharmacy's services.
Independent pharmacists have an advantage because in most instances LTC facilities would rather work with someone local than national. It's much easier to call the person up the street when a problem arises than to work through layers of red tape.
McDonough's experience as a consultant pharmacist at the University of Iowa led Towncrest to one of its first LTC relationships. A nursing home administrator he'd worked with had remembered the quality of his consulting and reached out to tell him that if the pharmacy ever expanded to working with nursing homes, they'd be interested. "We saw the opportunity of working with them and were able to develop a nice relationship," he said.
As for reaching out to new clients, McDonough acknowledged that the market for nursing and group homes can be competitive. "We always have to be on our best game, because they're always being courted by a competitor." To stand out from the pack, Towncrest emphasizes the quality of its services. "Facilities know they're going to get added-value services that are of high quality because they see we're not going to skimp and we're not going to cheapen it. We believe that's what really separates us from everyone else."
Addressing Growing Pains
When a pharmacy acquires its first LTC contract, it might not see much of a change in workflow. Adding 15 or 20 patients from a local group home won't put too much of a strain on staff. "Just dipping your toe in the water is relatively easy," Popomaronis said.
As a pharmacy grows its LTC accounts and patients start to number in the hundreds, it has to separate its retail and LTC operations. For Towncrest, that point came about a year ago. "We began to realize we were probably missing out on the benefits of being a combo or long-term pharmacy, so over the past year we've converted to a combo pharmacy,"  McDonough said.
Now, the lower level number of the pharmacy's operations is solely devoted to its residents from nursing homes, group homes, and assisted living facilities. The traditional retail patients are served from a completely separate inventory on the upper level of the pharmacy.
The transition has also meant some changes in staffing. There's an entire staff to focus on long-term care that has more specialization and expertise.
"We also had to think about how we optimize in terms of utilizing technology," McDonough said. After acquiring its first nursing home account, Towncrest invested in a robot, which at the time was a major expense. But it paid off, and since then the pharmacy has purchased a second robot. "Those investments help improve the efficiency of the practice as a whole, and they free up the pharmacist to apply those clinical services and work on the optimization of medications."
This approach of freeing up the pharmacists has also led to empowering the technicians. Iowa law allows technicians to verify, a practice that Towncrest has wholeheartedly embraced. With "checking technicians" verifying the work of other technicians in the practice, the workflow has been streamlined and pharmacists have more time to work with LTC facilities on individualized resident care.
Unique Needs
Like with any change, adding LTC business to your pharmacy comes with a unique set of challenges. "You're going to have to invest," said Popomaronis. Adding a facility with 100 or more residents means that you'll have to hire new staff to handle that volume or re-train current staff to work with new kinds of prescription packaging.
When you work with multiple facilities, balancing all their separate needs can be tricky. They may each have different preferences for what kind of packaging is used or require unique technology for keeping track of electronic health records. They also may require new demands on a pharmacist's time. Sometimes, a pharmacist will be expected to deliver an emergency dosing or drop everything to take care of a new patient coming in.
Equipment expenses also add up, with some LTC arrangements requiring pharmacies to purchase and install emergency kits and carts for use within the facility. "If you end up spending $10,000 to $15,000 on carts for a nursing facility, a one-year agreement is not enough to recoup that investment," Popomaronis said. These types of expenses need to be considered when negotiating an initial contract.
Additionally, LTC facilities are highly regulated, and time and money need to be spent ensuring pharmacy services are compliant with all the laws. "There are really two customers. The residents are our customers, but we've also got the facilities. Ultimately, we want to make sure that the residents are optimizing their medications, but we've also got to protect the facility," said McDonough. "What we don't want is for an inspector to come in and then the facility gets written up because of something we should have taken care of."
While juggling  these aspects of LTC relationships, pharmacists also have to be careful not to neglect the patients of the retail portion of their pharmacy. Even if they are managing to balance the two populations, there will come a point when they will have to make big decisions about the future of the pharmacy.
"I don't think it's that much of a stretch to handle between 100 and 300 patients in a combination pharmacy," Popomaronis said. "I think it makes good business sense." However, when a pharmacy is serving 1,000 residents from 20 facilities that all have different requirements, closing the door to become a full-time LTC pharmacy could be the best path forward. By not serving retail patients, a pharmacy can increase its reimbursement and decrease the cost of goods sold for higher profit margins.
Set Up for Success
For current traditional community pharmacies who are looking to dive into long-term care, there are resources available to help with the transition. NCPA actively encourages pharmacies to engage with LTC facilities and join NCPA's Long Term Care Division, which is there to make the process easy.
"It provides an FAQ and a service bureau desk," Popomaronis said. "We have tools like contracts and basic agreements that pharmacists can use to bind themselves to a group home or assisted living facility. We have seminars on changes that are taking place to help pharmacists become experts, so they can use those skillsets to open doors." The division can also refer pharmacies to consultants as their business grows.
In McDonough's view, success in the realm of LTC pharmacy comes down to the quality of service and maintaining open lines of communication with the facilities you contract with. "You have to establish a good working relationship with the medical director," he said. Pharmacies need to keep up with those personal connections even as their client base grows, because it's the best way to ensure that their recommendations will be taken seriously. Tying in individualized care with the dispensing of medication creates a solid platform for growth.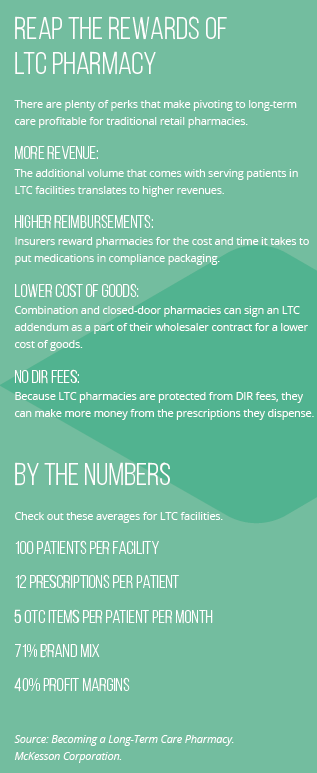 ---
From the Magazine
This article was published in our quarterly print magazine, which covers relevant topics in greater depth featuring leading experts in the industry. Subscribe to receive the quarterly print issue in your mailbox. All registered independent pharmacies in the U.S. are eligible to receive a free subscription.
Read more articles from the September issue:
---
A Member-Owned Company Serving Independent Pharmacies
PBA Health is dedicated to helping independent pharmacies reach their full potential on the buy-side of their business. Founded and run by pharmacists, PBA Health serves independent pharmacies with group purchasing services, wholesaler contract negotiations, proprietary purchasing tools, and more.
An HDA member, PBA Health operates its own NABP-accredited warehouse with more than 6,000 SKUs, including brands, generics, narcotics CII-CV, cold-storage products, and over-the-counter (OTC) products — offering the lowest prices in the secondary market.
---